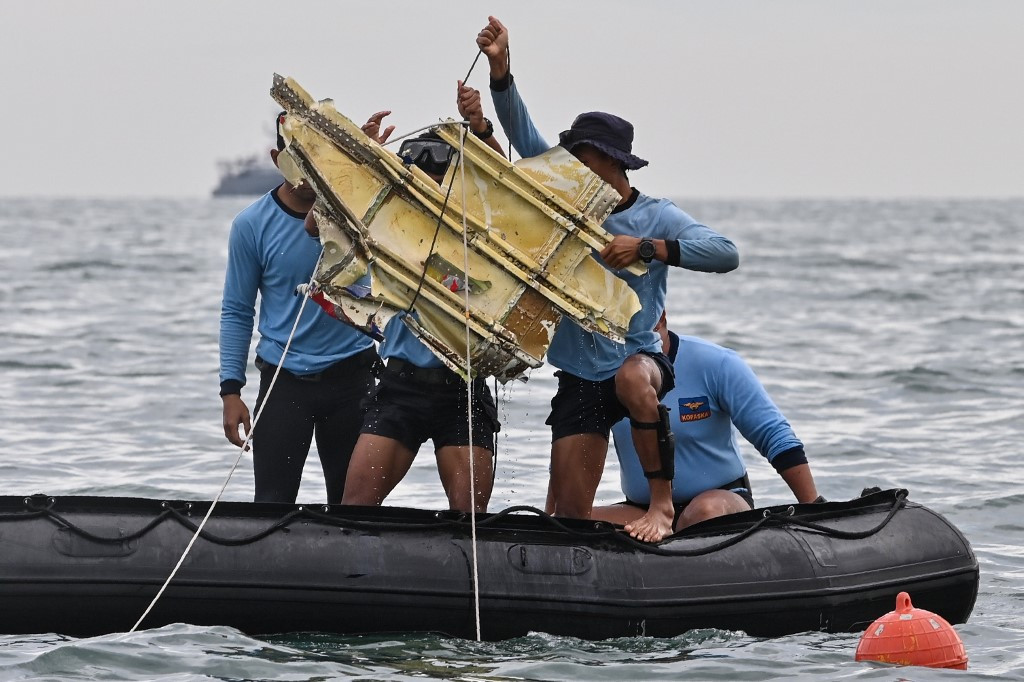 2021 has been another very difficult year for civil aviation. The continuing COVID-crisis has resulted in the bankruptcy of over a dozen airlines this year. Many were regional airlines but two flag-carriers were amongst the casualties; Air Namibia and Alitalia. The latter resulted in a start-up airline, ITA, that is about half the size, and together with Spain's Volotea, is serving a limited domestic network this winter and a much reduced international network. Many airlines and airports are carrying loans or have taken on additional debt to support themselves. Airports and their suppliers have also seen a marked drop in flights, passengers and revenue. A number of airport bankruptcies have been noted too; Frankfurt Hahn Airport, for example.
Aside from the economics, a knock-on effect in terms of accidents has fortunately not been witnessed in this year's set of accidents to commercial passenger flights.
A low fatal accident rate
As ever, the To70 civil aviation safety review examines accidents only to larger passenger aircraft used by most travellers. (See our criteria in the Note below.) We include all causes, whether technical failure, human error or unlawful interference. In 2021 there were 38 accidents, 4 of which were fatal, resulting in 81 fatalities. In 2020 there were 40 accidents, 5 of which were fatal, resulting in 299 fatalities. The fatal accident rate for large aeroplane in commercial air transport is 0.18 fatal accidents per million flights, compared with 0.27 per million in 2020. It is the lowest fatal accident rate since 2017. That is a rate of one fatal accident every 5.3 million flights. This years' fatal accident rate is better than average over the last ten years.
The fatal accidents to large passenger aircraft in 2021 were:
| | | | | | |
| --- | --- | --- | --- | --- | --- |
| Date (2021) | Type | Operator | State of Registration | State Accident occured | Fatalities |
| 9 January | Boeing 737-500 | Sriwijaya Air | Indonesia | Indonesia | 62 |
| 2 March | Let 410 | South Sudan Supreme Airlines | ??[1] | South Sudan | 10 |
| 12 September | Let 410 | Aeroservice, opf Siberian Light Aviation | Russia | Russia | 4 |
| 23 December | Shorts 360 | Malu Aviation | DRC | DRC | 5 |
The first two accidents related to manoeuvring, or the lack thereof, after engine failure. The Aeroservice Let 410, a small turboprop aeroplane, undershot the runway and struck trees during an approach in poor visibility.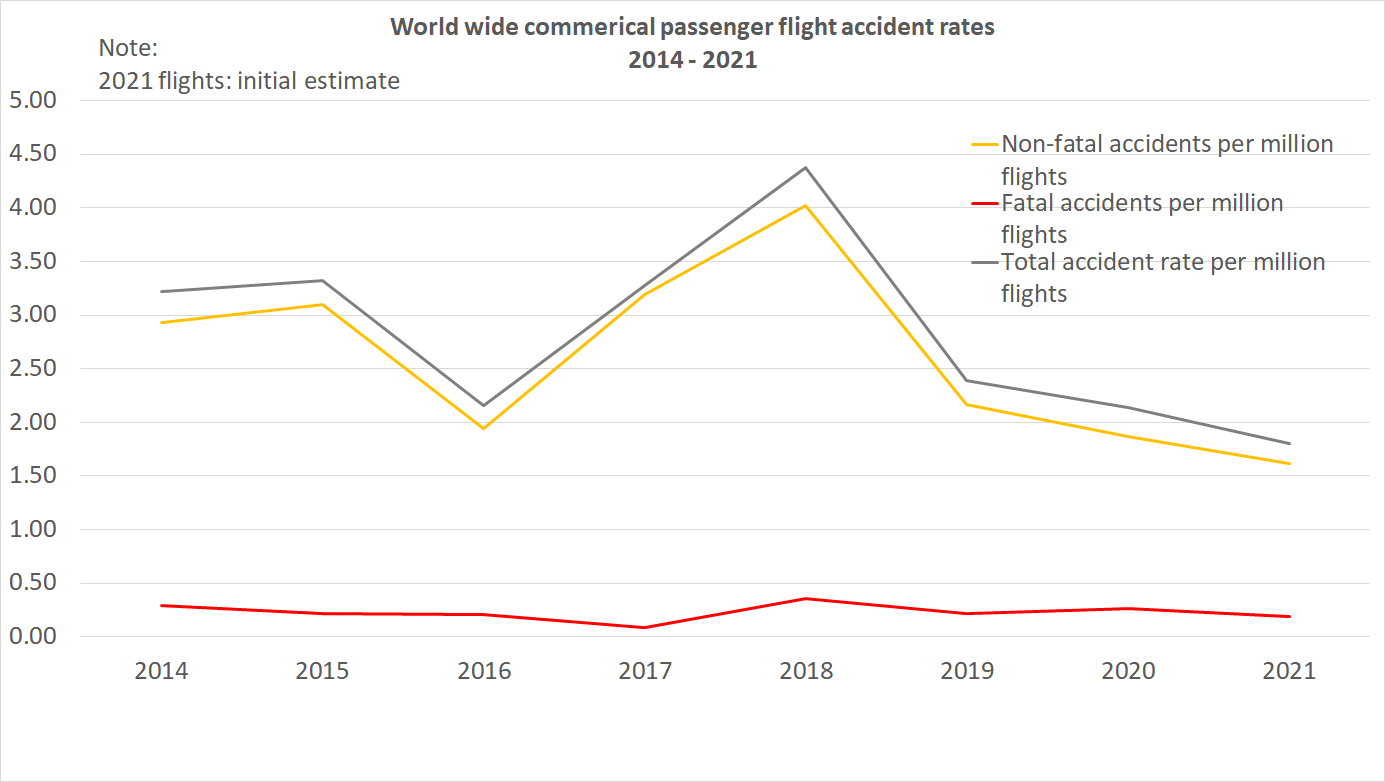 Issues related to COVID have not led to accidents, but there are still concerns
The aviation industry is not ignoring the issues arising from the COVID-19 crisis and, in Europe, the European Union Aviation Safety Agency has been supporting industry with material to help companies focus on a broad range of safety issues arising from the COVID-19 crisis. Industry bodies, including the International Air Transport Association and Airports Council International, to name just two, have also been supporting their members through the pandemic. At the highest level, ICAO's Handbook for CAAs on the Management of Aviation Safety Risks related to COVID-19 (ICAO Doc 10144) is an important source of guidance for national aviation authorities.
Issues relating to refresher training following long periods of absence, working in a period of underload – i.e. not enough stimuli or motivation to perform optimally – and mental health issues are all factors that the industry is striving to tackle.
However, there is evidence in the aviation incident data to suggest that that unpreparedness / unfamiliarity following periods of inactivity is affecting flight safety. A number of examples have been submitted to the American system of voluntarily reporting that is run by NASA, Aviation Safety Reporting System. Whilst these incidents relate to the aviation system in the US, it is almost certain that similar issues exist in the rest of the world. The value of occurrence reporting schemes, both within companies and at a governmental level, cannot be over emphasised. Whilst this article focuses on what has happened, it is the occurrence reporting schemes that are allowing precursors to more serious problems to be tackled before they threaten life and limb.
We wait to see what effect the continuing COVID-19 crisis will have on our lives and our travelling habits and we hope that the efforts to minimise the new threats posed to civil aviation by that crisis are sufficiently suppressed by the initiatives being taken across the industry. Whatever else happens, the reporting, analysis and application of occurrence reporting remains central to our ability to help prevent smaller lapses in safety from ending up as accidents.
Methodology
To70 uses official figures reported by States to the UN's aviation agency, ICAO, to determine the number of civil aviation flights that have taken place in any given year. The actual figures, published by the air transport organization, IATA, are used to estimate the current year's figures. We update our database each year when the actual flight numbers data for the previous year becomes available. This year, there is a little uncertainty in the flight data due to the disrupted nature of the year's operations and the way that passenger aeroplanes were used to carry cargo and no passengers.
Accident data is derived from publicly-available databases, aviation authority websites and official sources such as ICAO's ADREP database. Our analysis documents accidents to passenger flights commercial air transport operations in aeroplanes with a maximum take-off mass of 5700 kg or above. This excludes a number of small commuter aeroplanes in service around the world, including the Cessna Caravan (maximum take-off mass 3629 kg). Certain relevant exceptions may be included regarding smaller turbo-prop aeroplanes just below this mass limit (e.g., the De Havilland Twin Otter with a maximum take-off mass of 5670 kg). Accidents to military flights, training flights, private flights, cargo operations and helicopters are excluded. Unlike statistics produced by IATA and ICAO, accidents involving unlawful interference are included in our analysis.
As the vast majority of commercial air transport operations take place with large aeroplanes, the effect of the excluded types on the accident rate is very small.
[1] Aeroplane was marked with a false registration
Notes to the editor
Main photo: Agence France-Presse/Adek Berry, via The Jakarta Post
---
About To70. To70 is one of the world's leading aviation consultancies, founded in the Netherlands with offices in Europe, Australia, Asia, and Latin America. To70 believes that society's growing demand for transport and mobility can be met in a safe, efficient, environmentally friendly and economically viable manner. To achieve this, policy and business decisions have to be based on objective information. With our diverse team of specialists and generalists to70 provides pragmatic solutions and expert advice, based on high-quality data-driven analyses. For more information, please refer to www.to70.com.