Italian Sustainable aviation in the international context
---
Will SEA Milan airports be one of the first EU Airports to deliver hydrogen to aircraft? A recent press release by easyJet and SEA Milan described an MoU "to implement a more sustainable management of operations", including the use of Sustainable Aviation Fuel (SAF), hydrogen aviation infrastructure and the use of zero-emiss ion ground service equipment. This is a next step in achieving a sustainable Italian aviation sector. At To70 Italy, we see opportunities for the sector and for airports. We spoke with relevant stakeholders from airports, airlines, research groups, and sector organizations such as IATA and ACI for the following insights.
Sustainable aviation in Italy
Within Italy, we see actions being taken in sustainable aviation, especially regarding SAF. Eni, the main fuel supplier, is developing limited deliveries of SAF for Aeroporto di Roma, Milan Linate airport and other airports produced by their Italian bio-refineries (Gela, Taranto and Livorno). While SAF uptake is expected to increase, the amounts are still far off from the expected EU mandate of 2% SAF by 2025. On the topic of hydrogen as an alternative fuel, more work is needed as well.
Land and airside actions by Italian airports also look promising, with Torino airport testing full electric airport turnaround and Bologna airport investing in multimodal airport access. Aeroporto di Roma has led in the development of an airport sustainability linked bond to support investments in decarbonizing their operations. Finally, leading Italian airports Rome and Milan have achieved ACI ACA level 4+, and more airports are planning to the coming years. Many regional airports are still developing plans on how to achieve net zero airport emissions by 2050.
Airports taking the next step
These actions are only the first step in the journey to clean aviation by 2050. The majority of aviation emissions come from flights, and leading airports must also focus their attention on this. A paper on Airports contribution to net Zero aviation by ACI Europe confirms this focus, and sets a number of useful benchmarks for airports. The research includes facilitation of alternative fuels but also takes a broader scope, looking at air traffic management innovations and negative emissions technology.
Recently we spoke with Diego Babuder, an easyJet pilot doing an executive PhD focusing on new aircraft technologies. A point we discussed at great length was airport collaboration. From the perspective of easyJet, Diego mentioned that airlines must work together with OEMs and airports, but also with government, research groups and startups. Such a collaboration can deliver alignment of project outcomes, the development of synergies and the creation of consensus on the future of aviation.
The easyJet decarbonization roadmap he shared describes the collaboration with Rolls Royce and Airbus was critical in helping to shape the future of these programs. We believe the same will be true of airports. Within our research, we see collaboration agreements as catalysts for airport transition, applying tools such as stakeholder partnership plans in the ACI ACA level 4+.

Future airports in a global context
To get an idea of these developments on a global scale, I reached out to Dr. Alejandro Block, manager new energies and technologies at IATA. He mentioned that many airports worldwide are taking steps to collaborate and provide the facilities for future aircraft technologies. Regarding hydrogen, Kansai Airport in Japan is already refueling hydrogen to fork trucks in cargo, as is Memphis airport that is collaborating with FedEx on hydrogen cargo tractors. Airport de Paris is developing their H2 Hub Airport with more than 11 different smaller H2 projects, while Edmonton airport in Canada is developing hydrogen refueling as well. In the Netherlands, Rotterdam airport as well as Groningen airport are developing hydrogen hubs.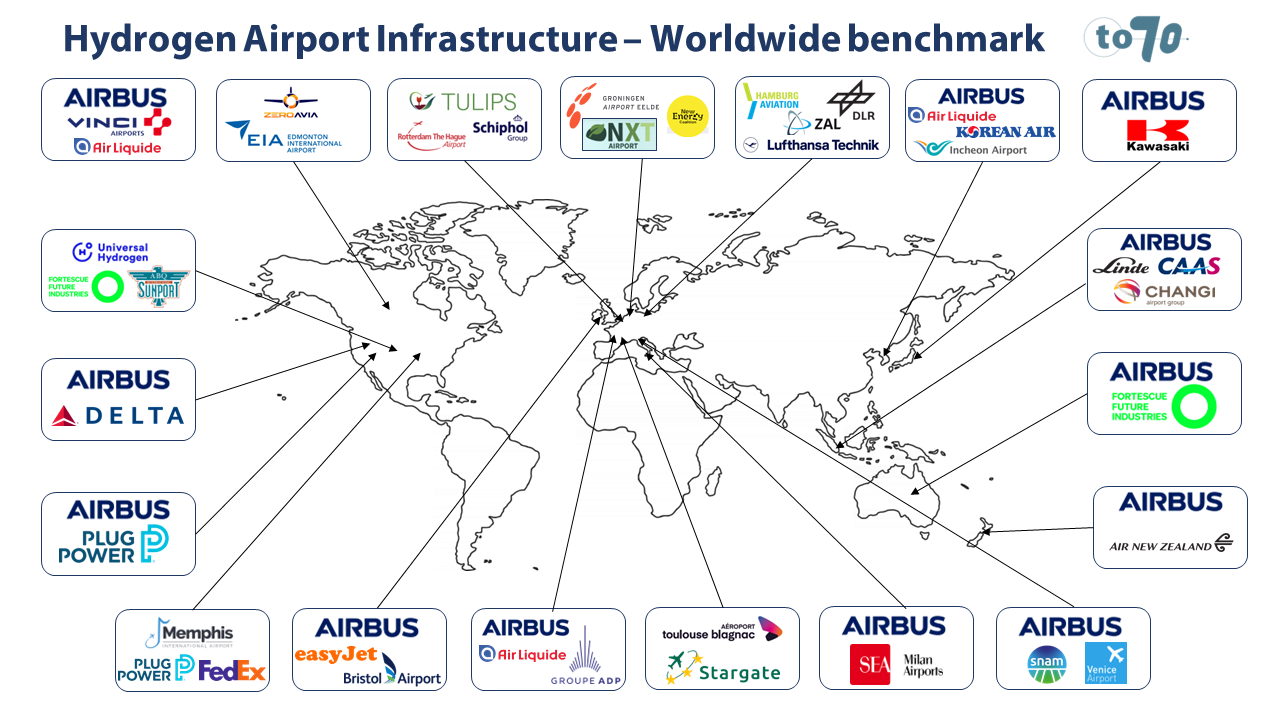 SAF delivery at airports is increasing as well, with new announcements of uptake agreements weekly and more airports providing SAF to airlines. Once SAF has been certified as Jet A1, it can be delivered to airport fuel farms and refueled through their fuel supply chains. The SAF credits to airlines can be divided through a mass-balance approach, or through yet to be developed book and claim systems.
Actions for airports
In the context of such new developments, we defined several actions airports can take.
Understand your future operations —> Get insights on the impact of alternative fuels on airport operations. Assess challenges such as turnaround times, impact on refueling and safety, but also the benefits, including airport reputation and first mover advantages.
Work together with governments —> The transition will not work without government support. Work together with governments, and push them to take action. European public-private collaboration examples are: Jet Zero council (UK) or Sustainable Aviation table (NL)
Develop multi-purpose infrastructure assets —> In developing new airport infrastructure, take into account all possible forms of aviation. When building new terminals, look into larger safety circles, or when upgrading the energy grid, ensure sufficient future capacity.
Solve the chicken and egg problem —> Show the future demand. Create the business case for future aircraft together with airlines and find synergies with ground support equipment.
Next steps for Italy
Looking ahead, this is a critical time for Italian airports to get on track with the leading European airports in decarbonizing aviation. We stress the importance of government support and intervention in achieving this, such as the UK JetZero council in pushing the UK sector to decarbonize. Diego and Alejandro expect Airbus to show new developments from their ZEROe project within a few years. If airports want to be involved, they need to develop plans to refurbish their airports to support alternative fuels within short to medium term.
Based on To70 research, we see that airports in particular are dependent on the rate and direction of innovation by external stakeholders such as airlines, OEMS, fuel suppliers and government. This leads to uncertainty, requiring airports to broaden their scope and work together with innovators in the aviation space. Critical steps include the development of stakeholder partnership plans, net zero roadmaps and taking action. At To70, we aim to support airports towards the future of aviation.
---
In previous blogs on alternative fuels topics, we have discussed both hydrogen and SAF infrastructure for airports. In case you are interested to learn more, reach out to Vincent de Haes
About post author