In an era marked by global efforts to combat climate change, the aviation industry faces growing scrutiny. Forecasts predict a substantial increase in passenger air travel in the coming years, amplifying concerns over the industry's carbon emissions and underscoring the need for immediate action. This is where Sustainable Aviation Fuel (SAF) emerges as a groundbreaking solution to mitigate carbon emissions in aviation. Given that SAF can substantially reduce carbon emissions by up to 80% throughout its lifecycle compared to traditional jet fuel[1], airport incentives are needed to drive the production and adaption of SAF. 
Airports, acting as critical hubs within the aviation ecosystem, have a pivotal role in facilitating the availability and uptake of SAF. One powerful mechanism adopted by several airports is the SAF Incentive Fund, a strategic initiative designed to bridge the price gap between SAF and traditional jet fuel for airlines. The comprehensive details of the SAF Incentive Fund are outlined in the SAF Catalogue, a collaborative effort led by Stargate, To70, the University of Hasselt, and supported by Brussels Airport Company. 
How the SAF Incentive Fund works

 
The SAF Incentive Fund is typically set up by the airport authority, often in collaboration with industry partners or stakeholders. The specific subsidy amount is determined based on various factors, including the type of SAF (e.g., biofuels or synthetic e-fuels), the current market price of SAF, and the fund's available resources. 
Airlines that choose to refuel with SAF at the airport can apply for subsidies from the SAF Incentive Fund. This application process typically involves providing details about the SAF purchase, including the quantity, type of SAF, and associated costs. 
Once the application is approved and the subsidy amount is determined, the airport disburses the subsidy to the airline. This can be done in various ways, such as providing a fixed amount or a percentage of the price difference between SAF and traditional jet fuel. 
By doing so, the financial assistance effectively reduces the net cost of SAF for the airline, making it more economically viable compared to traditional jet fuel. 
Leading

Airports in Establishing SAF Incentive Programs

 
Several leading airports like Schiphol, Swedavia, Heathrow, Dusseldorf, and Milan have already taken action by establishing SAF Incentive Funds to accelerate the aviation industry's transition to sustainable practices.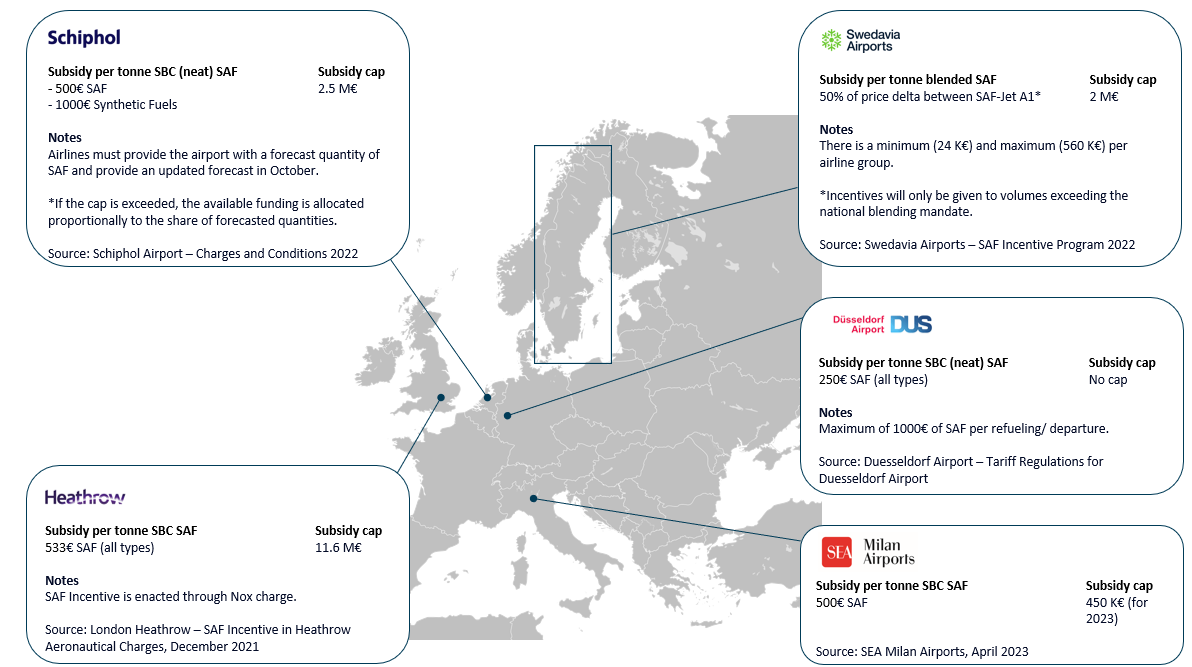 I

mpact

of

SAF Adoption

at

L

eading

A

irports
In 2022, Heathrow became the first airport globally to launch a SAF Incentive Program that covers up to 50% of the extra cost of SAF, thereby reducing its financial burden on airlines. Heathrow now has set an ambitious objective to triple the percentage of SAF used at the airport in 2023 to approximately 1.5% and become one of the world's leading airport users of SAF[2]. 
Furthermore, at Schiphol Airport, when airlines refuel with SAF, they receive subsidies of €500 per metric tonne of SAF (biofuels) and €1,000 per metric tonne of e-fuels (synthetic kerosene). To ensure a sufficient supply of SAF, Schiphol supported Neste (their SAF supplier) in acquiring a share of AFS (the fuel distributor at the airport). While Neste's current production sits at 100,000 tonnes, the company has ambitious plans to scale up output in Rotterdam and Singapore to 1.5 million tonnes[3].  
These examples illustrate how airports can utilize financial incentives to stimulate SAF production. Such actions send a clear market signal about SAF's crucial role in the long-term decarbonization of aviation. In addition, they encourage investments that can enhance production volumes and subsequently reduce costs.  
Taking Action

as an

A

irport
The growing number of airports joining SAF Incentive Funds reflects a rising commitment among airports to take a leading role in sustainability. However, many airports often lack clarity on the specific steps required to establish such initiatives. To address this need, we provide guidance on the SAF incentives as described in the Stargate SAF Actions Catalogue to efficiently kickstart a SAF Incentive Program.  
The following figure shows the step-wise approach: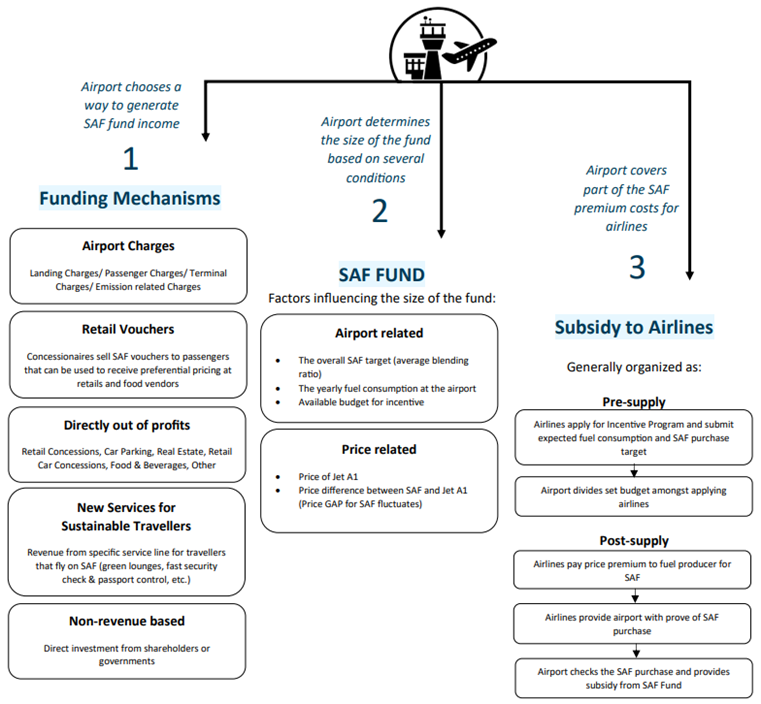 First, the airport selects a funding mechanism from a variety of choices, as depicted in the first step of the figure, to generate revenue for the SAF fund.

 

Next, the airport establishes the conditions for the size of the SAF fund. These may be influenced by airport-specific factors, such as annual fuel consumption, as well as price-related factors like the market price of Jet A1.

 

Finally, airlines can apply for the SAF fund, and the airport grants the subsidy by covering a portion of the SAF premium expenses. 

 
By following these steps, airports can establish a fund to stimulate SAF adoption on their premises. To70 can support airports to apply these steps within their own unique context, – and provide analysis and eventual testing and implementation. By doing so, airports can use their unique infrastructure position and promote sustainable practices among relevant stakeholders. 
---
[1] Jiang, C., & Yang, H. (2021). Carbon tax or sustainable aviation fuel quota. Energy Economics, 103, 105570. 
---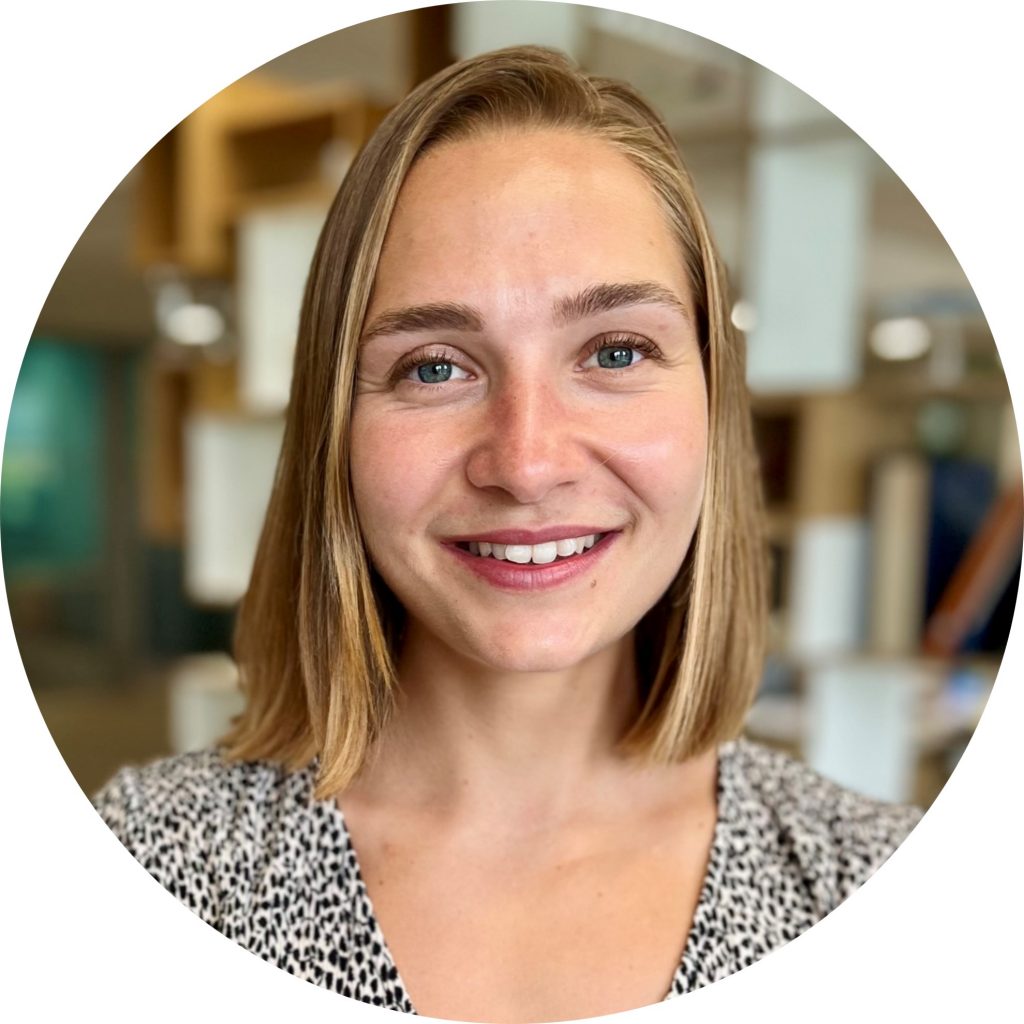 ABOUT THE AUTHOR
Junior Aviation Consultant with a master's degree in Sustainable Business and Innovation, reflecting her passion for exploring innovative solutions to guide the aviation industry towards a net-zero emissions future. Within her role at To70, Kimberly primarily dedicates her efforts to driving sustainability projects for airports.
---
Check out our open vacancies around the globe!