Data visualization is a cornerstone of aviation consultancy, playing a critical role in analyzing and presenting complex information. Hexagon LuciadLightspeed, a high-performance 2D and 3D geospatial visualization platform, has transformed the way To70 is able to analyze and communicate data to unlock valuable insights and provide impactful recommendations. In this article, we will explore how developing LuciadLightspeed enhances our consultancy services through its powerful features, which enable top-level analysis and effective communication.
Developing LuciadLightspeed for Aviation Consultancy
LuciadLightspeed is a cutting-edge visualization platform designed to fuse, visualize, and analyze geospatial data. Despite its many built-in capabilities, its key added value is the possibility to expand the existing framework with custom software, thus allowing our consultants to create ad-hoc solutions for specific problems or client requests. In this manner, we have successfully developed a series of supplementary capabilities which include the visualization of aircraft, flight paths and their noise footprints that can be replayed in real or fast time. Thus, by developing a specialized tool that surpasses generic solutions, our aviation expertise is leveraged with powerful geospatial visualization technology, a synergy enabling us to provide superior consultancy services.
Modernizing community engagement
To70 has developed LuciadLightspeed to change the way in which our consultants can represent flight data. Aircraft tracks could always be shown with the underlying topography by means of 2D plots. With LuciadLightspeed, we can now use the third dimension to gain a better understanding of how different flight paths relate to one another and the surrounding landscape, with the added immersion of moving around a 3D world integrating the terrain along the Earth's surface. Furthermore, we can now assign custom aircraft models to these paths, and thus represent different aircraft types, sizes and liveries, and replay them over the flight path for visualization purposes. Lastly, we have developed the capability to visualize the flight's noise footprint, thus showing how noise evolves through the trajectory in real or fast time. This representation of the noise generated by an aircraft, when shown over time and together with the aircraft model in 3D space, proves to be much more understandable and appealing to the public than the usual noise contour. With these components, the custom version of LuciadLightspeed developed by To70 can provide a more visual perspective to environmental impact assessments, thus bridging the gap between aviation growth and community engagement. Examples of such videos have already been published as part of the noise tool for Western Sydney International developed in collaboration with
Aerlabs
:
Western Sydney International (Nancy-Bird Walton) Airport Aircraft Overflight Noise Tool.
Watch more on our
Vimeo channel
.
---
Expanding capabilities
Nonetheless, the potential capabilities that LuciadLightspeed has for us do not end there. These capabilities can be used to either aid ourselves in our work or as a service to the client. On the one hand, at To70 we combine our aviation expertise with real world data to gain insights into the operation and propose solutions to the client. The handling and presentation of this data becomes paramount to the subsequent analysis and understanding of the problem, for which LuciadLightspeed can greatly enhance our methods. We can now  visualize and analyze a wealth of data from various external sources, thus seamlessly integrating radar and ADS-B feeds, weather data, airport databases, and many more, allowing us to tap into a vast array of information that is crucial for gaining insights and making informed recommendations to the client. On the other hand, LuciadLightspeed can also be used for a more effective collaboration and communication with the client or for their purposes, such as for example community engagement projects.  With its advanced visualization capabilities, we can now convey complex concepts and insights in a clear and compelling manner. The platform allows us to transform data into visually impactful presentations to facilitate data-driven discussions, engage stakeholders and foster a deeper understanding of the information being shared, thus gaining new perspectives to make informed decisions. This enhanced communication helps bridge the gap between technical analysis and non-technical stakeholders, promoting transparency and facilitating meaningful dialogue.
To wrap it up
In conclusion, developing this framework can prove to be a game-changer in the way data is visualized, decisions are made and communication takes place. By leveraging LuciadLightspeed's advanced visualization capabilities with our aviation expertise, we can unlock valuable insights leading to enhanced analysis and informed decision-making. Furthermore, it facilitates clear and compelling communication, enabling us to present complex concepts in a visually engaging manner to the public, fostering understanding and collaboration among stakeholders. With LuciadLightspeed, To70 can embark on a new era of data-driven insights, impactful recommendations and successful solutions.
---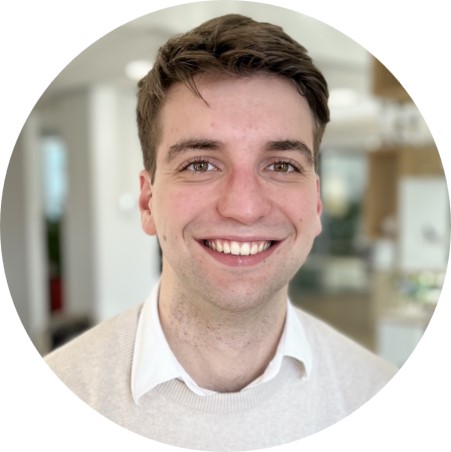 About the author
Eneko
is an aerospace engineer and junior consultant at To70 Europe, as part of the Dutch office in the Hague. He has supported several projects where his contributions include the development of LuciadLightspeed, flight data analysis, airport modelling and simulation, and assessments of flight procedures and obstacle limitation surfaces. One of his main interests entails the combination of real world expertise with the analysis of actual flight data, which he can bridge together with the unique combination of talented consultants and experts at To70.
---
Would you like to shape your career path with us?
Join our team!
 There are open vacancies in our different offices around the world, 
click here
 to check them out.