To70's annual Civil Aviation Safety Review examines accidents to large passenger aircraft used by most travellers. It includes all causes, whether technical failure, human error or unlawful interference. Despite a number of high profile accidents this year's fatal accident rate is lower than the average of the last five years.
[blockquote text="We need to retain our focus on the basics that make civil aviation so safe" text_color="#004361″ show_quote_icon="yes"][vc_separator type='transparent' position='center' color=" thickness='5′ up=" down="]
Fewer Fatal Accidents In 2019
In 2019 there were 86 accidents, 8 of which were fatal, resulting in 257 fatalities (see our methodology below). In 2018 there were 160 accidents, 13 of which were fatal, resulting in 534 fatalities. These follow a historic low in 2017 with only two fatal accidents involving regional turboprops (out of 48 accidents) that resulted in the loss of 13 lives.
Despite two high-profile accidents this past year, an Ethiopian Airlines Boeing 737 MAX and an Aeroflot Sukhoi Superjet, and an accident to a Fokker 100 just before the year's end, fatal accidents to large passenger aircraft remain rare events. Only two other accidents, a piston aircraft in March and a turboprop in November, resulted in more than 10 casualties.
An estimated 4,2% growth in air traffic for 2019 over 2018 means that the fatal accident rate for large aeroplanes in commercial air transport is just 0.18 (2018: 0.20) fatal accidents per million flights. That is an average of one fatal accident every 5.58 million flights.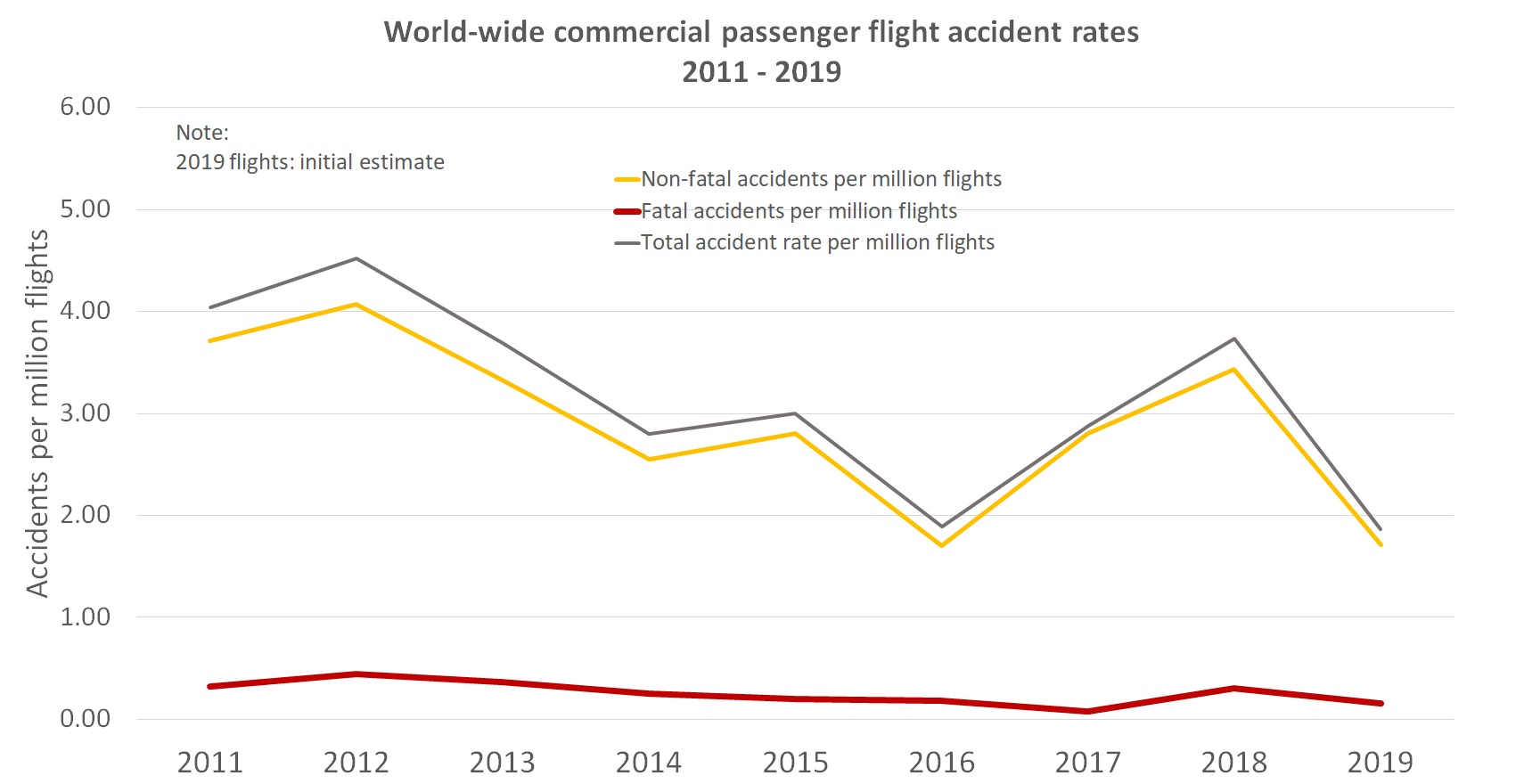 The accidents to large passenger aircraft in 2019 with more than 10 fatalities were:
| Date (2019) | Type | Country of Manufacture | Operator | Location of Accident | Fatalities |
| --- | --- | --- | --- | --- | --- |
| 9 March | Douglas DC-3 | United States | LASER | Colombia | 14 |
| 10 March | Boeing 737 MAX | United States | Ethiopian Airlines | Ethiopia | 157 |
| 5 May | Sukhoi Superjet 100 | Russia / CIS | Aeroflot | Russia | 41 |
| 24 November | Dornier 228 | Germany | Busy Bee | Congo | 29* |
| 27 December | Fokker 100 | Netherlands | Bek Air | Kazachstan | 12 |
*  19 on board, plus 10 on the ground.
Unsettling Trends
Whilst the accident rate for 2019 was low, there are fundamental issues about how we organise our industry that must be addressed. Fatal accidents involving the Boeing 737 MAX in 2018 and 2019 have asked difficult questions of the aviation industry. The issue of derivatives – when a new model of an aircraft type is considered a development of a previous one – is something that is rarely discussed outside the airworthiness world.
The question as to whether the 737 MAX was a derivative too far is still unanswered. These accidents also raise important issues about how much information and – most importantly – training is needed on new systems. Questions about how aviation authorities delegate powers to manufacturers are also being asked in wider circles than before.
We do expect that these questions will be answered and that the 737 MAX will likely return to service in 2020. It may go on to serve the aviation industry and the travelling public very well for probably the next 20 years.
Unlawful interference
A minor, yet unsettling, trend that started in 2018 relates to unlawful interference where an aircraft is stolen and then crashed. Whereas in 2018, it was a Dash 8 in Seattle, this past year saw another turboprop, a King Air 200, taken without permission in Botswana. In both cases, the result was a fatal crash that killed the pilot.
Future Focus: Don't Lose Sight Of The Basics
The entire aviation industry, and To70 as well, spent significant effort in 2019 focusing on so-called 'future threats' such as drones. Whilst these efforts serve an important purpose, the unsettling events of 2019 are a reminder that we need to retain our focus on the basics that make civil aviation so safe: well-designed and well-built aircraft flown by fully informed and well-trained crews.
About our methodology:
To70 uses official figures reported by States to the UN's aviation agency, ICAO, to determine the number of civil aviation flights that have taken place in any given year. The actual figures, published by the air transport organization, IATA, are used to estimate the current year's figures. We update our database each year when the actual flight numbers data for the previous year becomes available.
Accident data is derived from publicly available databases, aviation authority websites and official sources such as ICAO's ADREP database. Our analysis documents accidents, defined in ICAO's Annex-13, to passenger flights commercial air transport operations in aeroplanes with a maximum take-off mass of 5700 kg or above. This excludes a number of small commuter aeroplanes in service around the world, including the Cessna Caravan (maximum take-off mass 3629 kg). Certain relevant exceptions may be included regarding smaller turbo-prop aeroplanes just below this mass limit (e.g., the De Havilland Twin Otter with a maximum take-off mass of 5670 kg). Accidents to military flights, training flights, private flights, cargo operations and helicopters are excluded. Unlike statistics produced by IATA and ICAO, accidents involving unlawful interference are included in our analysis.
As the vast majority of commercial air transport operations take place with large aeroplanes, the effect of the excluded types on the accident rate is very small.
About To70. To70 is one of the world's leading aviation consultancies, founded in the Netherlands with offices in Europe, Australia, Asia, and Latin America. To70 believes that society's growing demand for transport and mobility can be met in a safe, efficient, environmentally friendly and economically viable manner. To achieve this, policy and business decisions have to be based on objective information. With our diverse team of specialists and generalists to70 provides pragmatic solutions and expert advice, based on high-quality data-driven analyses. For more information, please refer to www.to70.com.
About post author