In October 2022, all 193 member States of the ICAO pledged their commitment to support the notion of net-zero carbon emissions by 2050. The aviation industry contributes approximately 3.5% of the total CO2 emissions globally (non-CO2 emissions are expected to be between 1 and 2 times the total CO2 emissions). The emissions rate is expected to continue rising with the growth of the aviation industry if we do not take action. Airlines, aircraft manufacturers and other industry partners are ramping up their efforts to decarbonise flying by introducing sustainable aviation fuel, electric and hydrogen aircraft, or improved airspace operations. Outside of the aircraft, aviation stakeholders are also working on electric ground staging equipment (e-GSE), circular airports, recyclable or biodegradable materials for packaging and many other innovations.
In recent years, electrification of airside operations is gaining popularity with airports of various sizes committing to transform their modus operandi to align with the industry's net-zero carbon emissions target. At leading airports such as Schiphol group, all ground handling is sustainable through either electrification or biofuel as of 2023. Strategic planning is crucial to successfully implement full electric operations on the airside. In this article, we will explore the challenges, opportunities and considerations in the transition to electric airside operations.
Regulatory Framework, Policy & Governance
The transition to electric airside operations is influenced by the different regulatory frameworks, policies and governance that exist at three levels: international, national and organisational. Many recognised programmes and publications at the international and national level provide roadmaps and guidance on decarbonising the aviation industry. Organisations can adopt the recommendations from the published guidelines as a baseline to determine the pathway to electric airside operations. A summary of the minimum efforts to be undertaken at different governance levels is shown in Figure 1 below.
For an airport to embark on the journey to electrify the airside operations, the first step is to identify the financial and technical resources available to kick-start the process of operational transformation.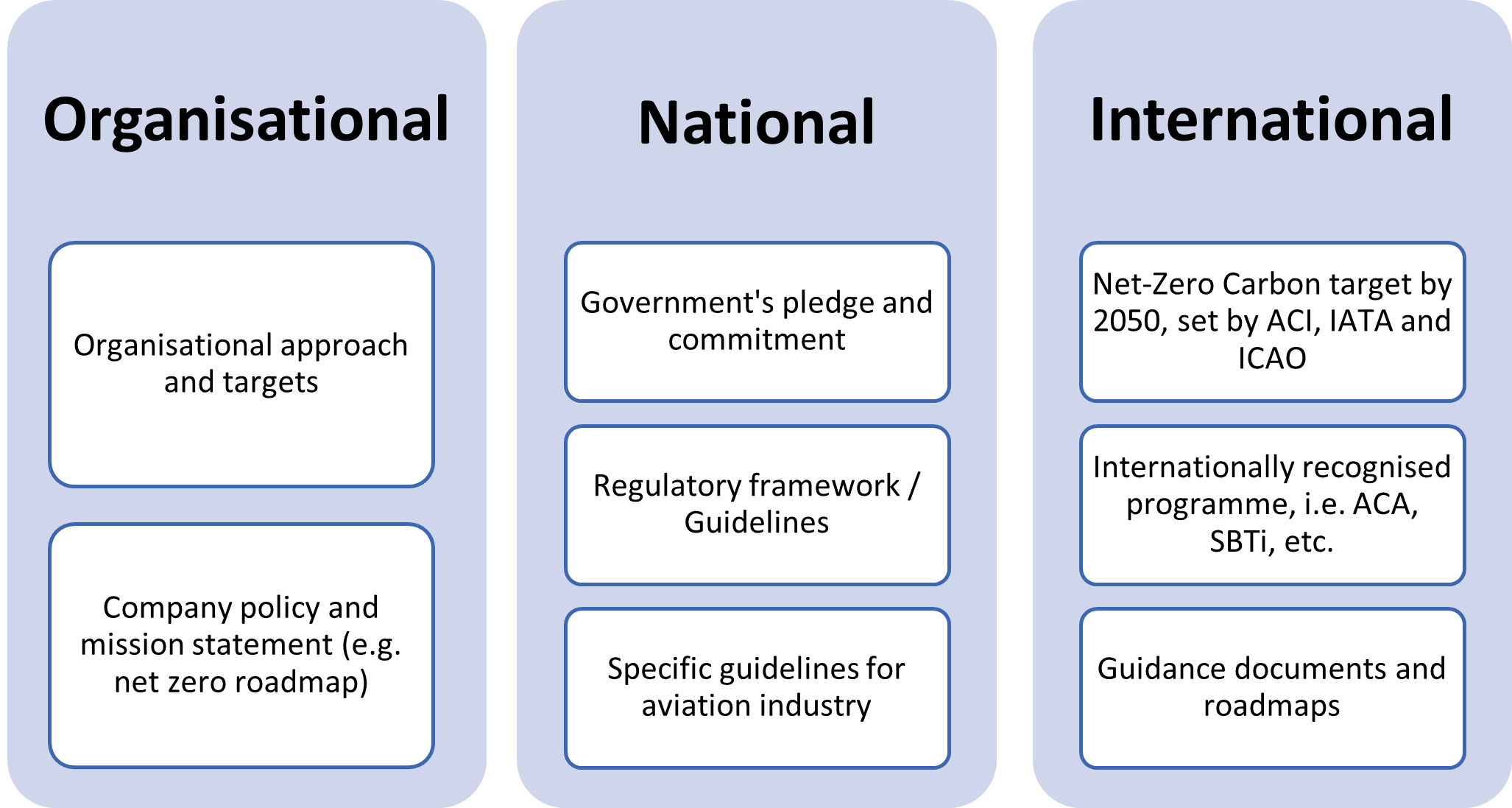 Gap analysis & Benchmarking
As with any other initiative, conducting a gap analysis and benchmarking exercise is crucial in project planning and developing a strategic implementation plan. Generally, an organisation would need to ascertain the baseline criteria and requirements that need to be met in developing a strategic transformation plan. Definitive guiding principles establishes the relevant boundaries for benchmarking exercises. Globally, there are regions which have embarked on the decarbonisation process earlier. Case studies from these regions can be used as reference by others to identify areas for improvement.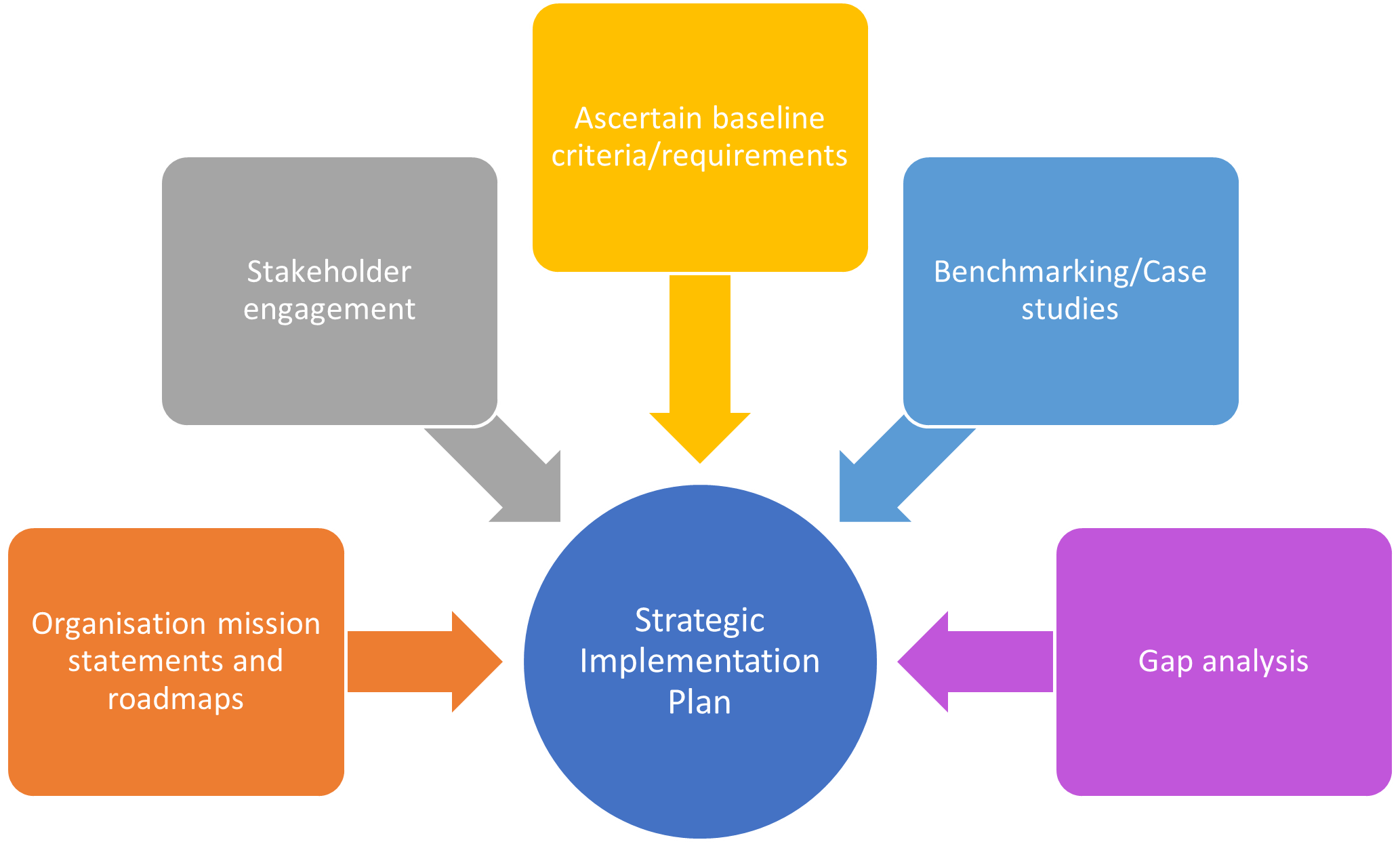 Decision-Making & Commitment
For Management to make sound and informed decisions, the decision-making process must be well understood and documented. All relevant stakeholders should be engaged in the discussions to ensure that all concerns identified and addressed accordingly. Stakeholders may have different approaches and pathways to achieve the Net-Zero Carbon target by 2050. An airport operator may focus on decarbonisation efforts to get certified under the ACA programme, while the ground handling companies may look at the availability of green funding, green tax relief, etc. as incentives to decarbonise the operation sooner than later. In the process of decision-making, some of the key decisions to be discussed and agreed upon by the stakeholders include the implementation timeline, funding options, level of commitment, etc.
Strategic Planning & Implementation
Strategic planning commences after gathering relevant input and feedback from various stakeholders. Ideally, the efforts should be managed by a task force consisting of representatives from different business lines within an organisation. In some cases, subject matter experts from external sources may be engaged to lead, manage, facilitate, and develop the strategic pathway to implement appropriate decarbonisation measures. During the strategic planning phase, careful evaluation and unbiased assessment are paramount. The areas of assessment are generally categorised under master planning, operation, and financial aspects as shown in Figure 3.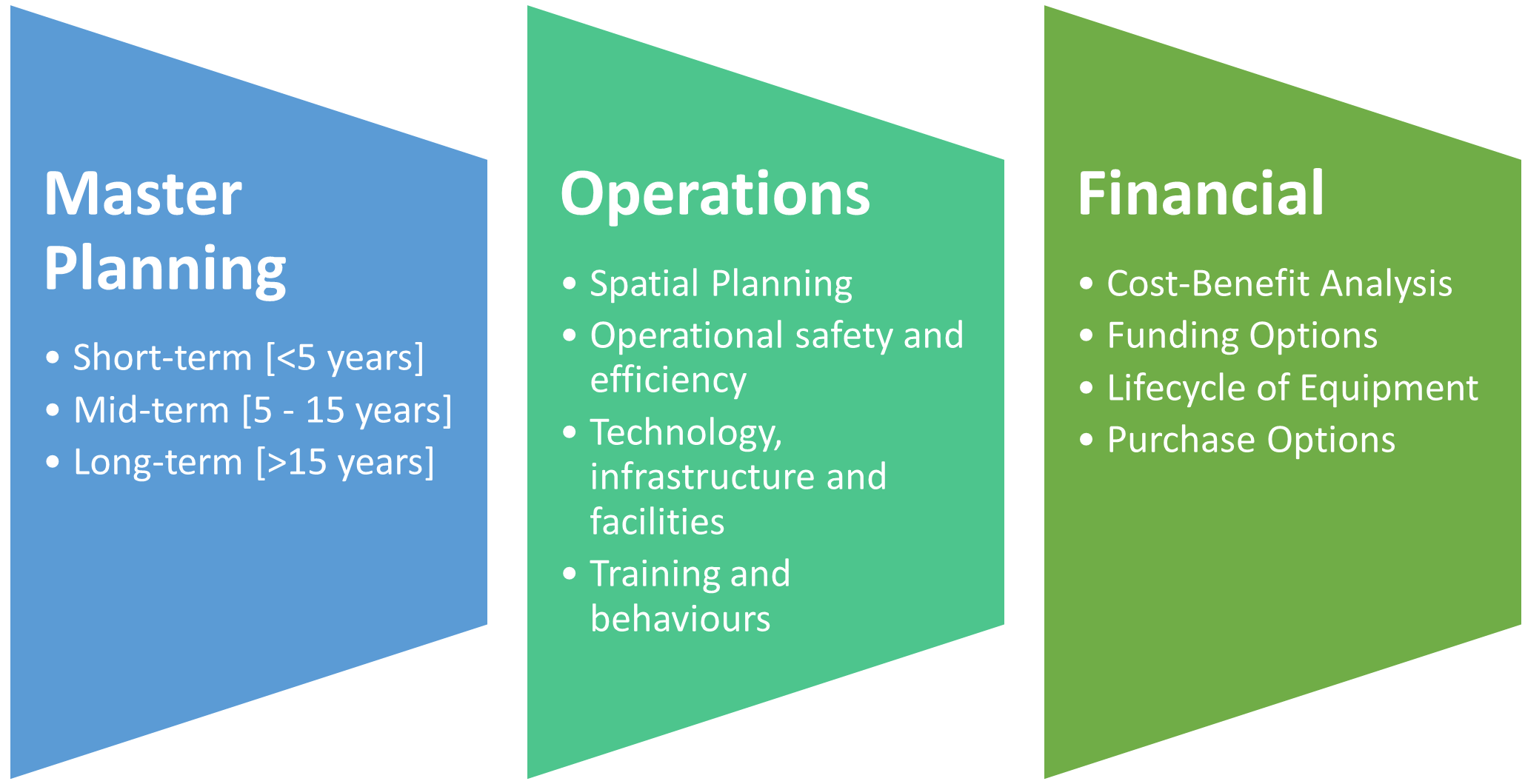 Challenges
The key challenge in electrifying existing airside operations is the huge upfront capital investment because of the asset intensive nature of the operation and compatibility of existing infrastructure to support this initiative. The transformation would mean ground handlers must replace existing fuel-powered fleets with electric fleets, airports must ensure the infrastructure and facilities such as charging stations, battery packs storage and reliable power supply are provided, and that electric grids must be improved to handle high demand and peak loads. High capital expenditure is expected to execute this transformation and internal funding may not always be readily available. However, it is possible to obtain external funding via different channels such as green bonds, green finance, government/institutionalised loans, etc. that are available in the market. Other challenges such as commitments from stakeholders and external business partners, the rise of 'greenwashing' to achieve carbon-neutral airports, as well as getting ahead with the latest technology could hinder the adaptation of electrification.
Conclusion
While electrifying airside operations could easily be perceived as the key to decarbonising airport operations, the task to lead this transformation is not an easy one. Therefore, a strategic implementation plan with clearly defined goals, objectives, and timelines should be developed and customised to suit the business needs. The lack of strategic implementation plan could result in incompatible between asset and infrastructure (e.g. insufficient power supply, lack of charging station, etc), loss in operation productivity and low return on investment.