Air cargo is an important part of the aviation ecosystem since it facilitates global trade and economic development for local, regional, and international markets. From an economic point of view, air transport accounts for over 35% of world trade shipments in value of goods transported but only accounts for less than 1% in the volume of goods transported[1]. This suggests that air transport was chosen for high-value and time-sensitive goods/products.
Air cargo has shined the brightest for being the key support to the air carrier business and enabling global tread during the COVID-19 pandemic since passenger traffic dropped substantially from the year 2019 to a level that had not been seen in over two decades. Even though the overall air cargo volume carried has dropped, a significant lack of cargo capacity owing to the unavailability of belly cargo on (grounded) passenger aircraft is the reason for the rise in cargo rates[2]. Looking into the air cargo situation in Thailand, overall air cargo volumes fell just 35.99% by 2020, whereas total passenger numbers fell substantially by 64.71%. Domestic air cargo is decreased at a higher proportion than international air cargo because it is typically carried by lower-hold passenger aircraft. While international aviation cargo could be handled by air cargo dedicated freighters with no border restrictions enforced.
Although the demand for air cargo is not as great as that for passengers, the trend of world cargo volume has grown consistently with a CAGR of 2.96% between 2009 and 2021. While Thailand has observed an overall rise in the air cargo industry of 1.43% for the same period from 2009 to 2021.
Since the demand for air cargo services continues to grow, cargo-related operators will need to adjust and develop themselves in order to serve the sufficient supply to the market and take this opportunity to gain a higher air cargo share within the global market, especially in terms of airline and airport.
Developing Thailand's airport air cargo strategy
While not directly participating in the air cargo supply chain in terms of direct revenue generation from handled cargo volume, airports benefit from air cargo growth deriving from cargo traffic. For instance, with a higher number of larger aircraft flying into and out of the airport and extended regular operating hours, the airport would generate more revenue from the increase in cargo operations.
Airports play an important leadership role in influencing and developing air cargo. Increasing cargo traffic requires a combination of several factors, including the airport's strong connectivity networks, robust up-to-date infrastructure, and quality partnerships.
Direct and indirect connectivity networks to and from the airport are the most important among other factors. Airport operators need to attract more air carriers with wider network coverage or air carriers that enable connection to the new region. Extending the network coverage would lead to diverse aircraft types for cargo operation (integrators, belly-hold in passenger aircraft and air freighter aircraft) and destinations and frequency of flights whether direct or connecting flights as well as multimodal routes, which in the end would attract more cargo traffic from air carriers.
From figure 1, The volume of international air cargo through Thailand in the year 2021 was 1,172,688 tons, while almost half of the total international air cargo volume originated from or is destined for East Asian countries, including China, Hong Kong, Japan, South Korea, and Taiwan. This is because the major global manufacturing supply chain players are based in East Asia and require efficient transportation of components and subassemblies throughout their supply networks. Therefore, Thailand's airports should prioritise building a higher level of connectivity with the top ten import/export countries which occupied three fourth of the total international air cargo volume including the five mentioned East Asian countries, the United States of America, India, Germany, the United Kingdom, and Norway. Especially, indirect connectivity, as it would offer customers a vast choice of destinations onward with an extensive range of cargo rates allowing them to have more flexible time and cost management. Although in 2021, 99.09% of international air cargo handled was at Suvarnabhumi Airport, considering increasing connectivity for international flights in less congested airports could encourage better air cargo distribution across Thailand while also creating diverse options for customers.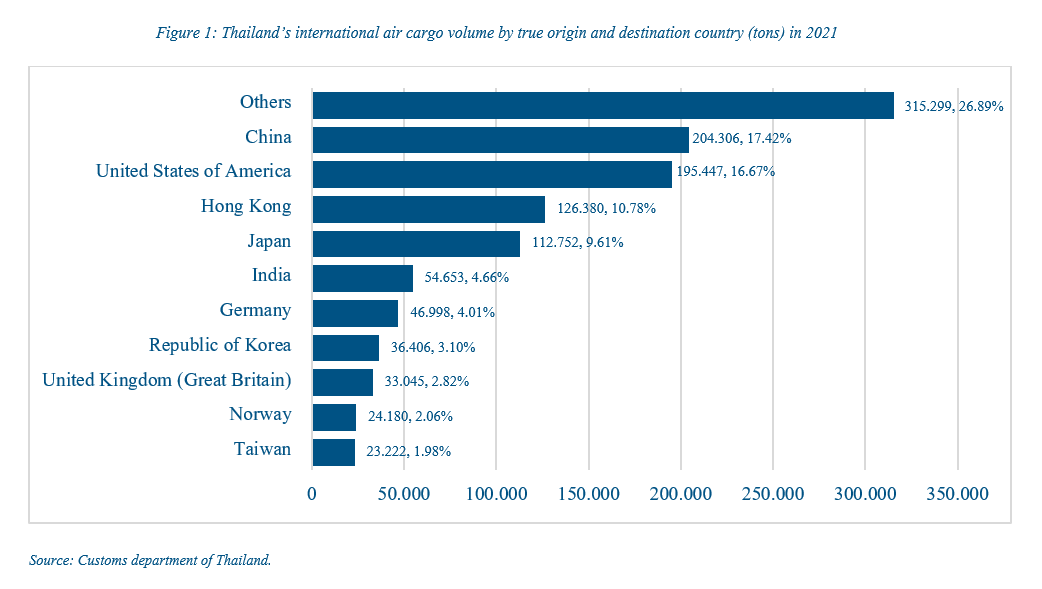 As the key players in the airport ecosystem that has a direct influence towards cargo traffic coming in and out from the airport, ground service and cargo terminal need to provide sufficient and quality capacity to the customer. Since the availability of capacity and market-appropriate infrastructures especially for handling special cargo are significant for managing air carrier networks, airports that manage their cargo investments efficiently would create the ideal environment that encourages cargo operators to stay proactive in order to reach their highest potential. While the airport operators themselves also need to pay attention to the bigger picture of the adjacent logistical area, the development of road access and a traffic plan for the airport could benefit the traffic flow, giving a better experience to cargo operators and commercial airport customers alike.
Since Thailand is one of the world's main industrial centres, the major goods exported and imported into and out of Thailand are similar to those transported within and from East Asia to North America and Europe. The main cargo types exported and imported to/from Thailand by air, general cargo, heavy or oversized, perishable, and valuable cargo make up the largest volume of goods transported. Therefore, air cargo players, especially ones operating at the airports should be encouraged to monitor the trend of each cargo type coming through their system using an airport's data-centralised platform. This could benefit air cargo operators whether the utilised area and infrastructure that they have is sufficient to handle the growing volume of cargo in a proper manner while still managing to meet customer service expectations. Since each cargo type needs different support infrastructure and procedures to handle especially special cargo. In addition, Thai airport operators could promote security and safety campaigns towards the airport's data-centralised platform and cooperate with air cargo operators to closely monitor the cargo by collecting the status, location, and information of the personnel responsible for the shipment at every stage throughout the supply chain to ensure that, when there are unexpecting events, the cargo is traceable and person-related is recognisable, by working together, overall air cargo service reliability would increase and attract more new customers benefiting every stakeholder in the supply chain, especially the customer.
Establishing quality partnerships to enable cargo potential and quality processes would rely on constant communication and cooperation between a large number of stakeholders such as shippers, freight forwarders, cargo terminals, ground handlers, airlines, customs, regulators and airports. Airports could observe the effectiveness of the cargo operations and make sure that all stakeholders have access to high-quality service against the competitive level of time, reliability, safety and security offered by air cargo operators at the airport. Apart from the physical infrastructure, upgrading communication channels that digitally synchronise data between each other could facilitate air cargo delivery within the end-to-end supply chain more effectively. The airport could also actively be a medium that connects stakeholders together and play a leadership role in proposing future plans that promote cargo value to local regulators.
Since air cargo operations in Thailand still rely on paperwork, which is against the global environmental sustainability trend, difficult to collect and trace back data, and consume significant resources in long term. To leverage the data processing and service quality, Thai airport operators could support developing the cargo information gathering and sharing platform leading to visibility and seamless air cargo handling process between logistics and transport stakeholders. This involvement of all parties air to synchronise the protocol of data gathering and processing to ensure that data can be used across organisations resulting in strategic improvement of the air cargo supply chain as a whole. Having the information sharing platform not only boosts the efficiency of the air cargo operators but also improve customer satisfaction by enabling prompt information access of customers' cargo status as it also links to other information collecting platform or equipment used internally throughout the operation of the operators. Enhancing the perception of transparency and reliability of air cargo service.
For example, customers could fill in relevant information for air cargo services directly on the platform while also proceeding with customs paper and receiving approval on the same platform given available information for freight forwarders, cargo terminals, ground handling and air carriers to access and use for their cargo handling processes.
To achieve successful air cargo development within the Thai airports, there needs to be constant communication and cooperation from all the stakeholders. The airport operator is critical to ensure the success of the air cargo development strategy by supporting the development of the air cargo ecosystem in terms of road access, and traffic plans and by encouraging collaborations between stakeholders. Furthermore, airports could take an active role in responding to the rapid accelerated digital transformation and environmental sustainability, which are becoming increasingly important. This demonstrates that the collaboration between the airport operator and the other stakeholders in the air cargo supply chain would play an important role in increasing the capacity and capability of the Thai airports resulting in a higher air cargo share within the global market.
---
[1] Air Transport Action Group, Facts & Figures, 2020, https://www.atag.org/component/factfigures/?Itemid=
[2] International Air Transport Association, Industry Losses to Top $84 Billion in 2020, 2020, https://www.iata.org/en/pressroom/pressroom-archive/2020-press-releases/2020-06-09-01/
About post author