Small regional airports have a hidden potential to foster better connectivity between remote locations, enhancing territorial cohesion and reducing travel times. In addition to that, the implementation of new technologies and innovations, such as electric, hydrogen and hybrid aircraft, could make regional flights a sustainable alternative for specific use cases, such as road transportation. Therefore, there should be a stronger investment in regional airports' infrastructures, so as to strengthen their role in the mobility of the future.
A key component for future air travel
Small regional airports – those with less than a million passengers per year – experienced tremendous growth before the pandemic hit. They could potentially represent a key component to strengthen connectivity, since a broader use of regional airports could better connect remote locations, enhancing territorial cohesion and social inclusion for communities. Moreover, regional airports play a major role in the development of future sustainable travel, both of passengers and cargo, thanks to the implementation of new technologies and aircrafts and the operational shift towards them.
Despite the impact of the pandemic, by 2024 air passenger figures are expected to start growing again, in comparison with 2019 values. The implementation of new technologies will allow both cost savings and a positive spill over on the environment, reducing greenhouse gases (GHG) emissions. Such technologies, related to Urban Air Mobility (UAM) and Advanced Air Mobility (AAM) and involving the use of advanced electric and hybrid-electric aircrafts, will change the mobility of the future and the operational procedures of airports related to, for instance, faster turnaround times, less indirect spending in maintenance, repair and operations, vertical take-off and landing and automation of some aircraft.
A flywheel for better connectivity
The development of the regional air market will involve new types of electric-powered aircraft, which will initially cover a short range (approx.100-200 km), but grow as battery technology develops. These new aircraft are ideal for intercity connectivity, as well as transportation between busy cities and rural locations that are disconnected from public transport. Short-range operations and point-to-point connections with electric aviation will provide effective, sustainable and flexible solutions for regional connections, as passengers and cargo will be moved more easily, in less time and more efficiently. In order to achieve this intent, regional airports will have to identify new energy sources and undergo considerable strategic and infrastructural changes.
In the long term, regional airports will allow to reduce travel times. European publication "Flightpath 2050: Europe's Vision for Aviation" lists the goals to achieve for future European aviation, including that, by 2050, 90% of European passengers should be able to make their journey in less than 4 hours. In this context, the role of regional air transport will be essential.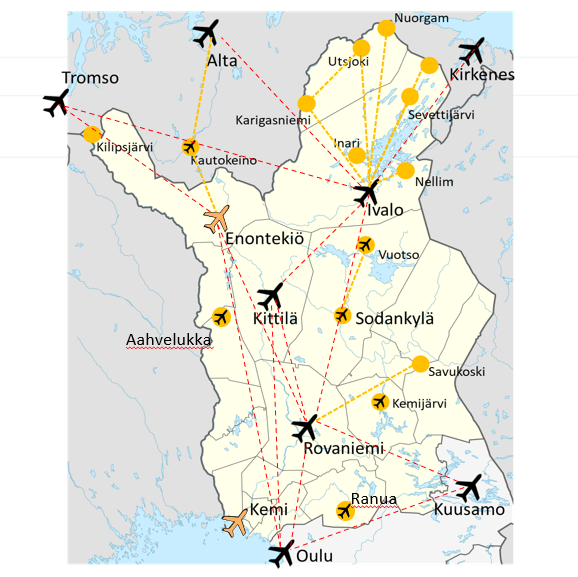 Regional flights as sustainable alternatives to road transportation
Regional airports can improve regional connectivity, but they also represent an alternative, among others, to road transportation. In some specific use cases where road transportation does not suffice, this can lead to a reduction of GHG emissions in the transportation sector as a whole. For example, island transfers, or areas such as northern Finland as pictured above are impossible or very difficult to make by car.
Emissions of different modes of transport depend on many factors, such as the distance of the trip or the number of passengers (or the weight of cargo). If we look at the carbon footprint of travel, measured in grams of CO2 equivalents per passenger kilometre, nowadays flying is more convenient than driving a medium-sized car alone for distances over 1000 kilometres. Assuming that airports' infrastructure is improved so as to meet the energy demand in a sustainable manner, and presuming the imminent (2025-2027) introduction of regional hydrogen, battery or hybrid-electric airplanes (from 4 up to possibly 20 passengers and five tons of cargo), in some cases regional flight will be the most reliable, fast and ecological alternative to road transportation even for flights covering distances inferior to 1000 kilometres because of reduced times and overall CO2 emissions.
The increase of movements of goods and people through small regional airports would reduce not only CO2 emissions, but also times and traffic congestion. It is therefore reasonable to conclude the importance to foster and restore the growth of small regional airports to improve connectivity and to exploit the potential of new technologies, reducing transport emissions. On this account, the use of electric, hydrogen and hybrid aircraft, as well as the implementation of new renewable energy sources and the modernization of infrastructures, will play a key role in the introduction of more environmentally-friendly alternatives within transport. If the aviation sector can make this transition, it would help reduce CO2 emissions and come closer to the European Union's objective of reaching climate neutrality by 2050.
---