Part 1 – History, Operations and Sustainability
To commemorate 60 years of operations by Loganair, To70 is publishing a pair of articles about the past, present and future of Loganair, known as "Scotland's Airline". In this first article, we look at the history of this regional airline and the airline in its current form, highlighting the difference between Loganair as a regional operator in the UK and its highland and island role.
History of Loganair
Loganair is one of a number of airlines that carries its founder's name in the name; other examples include the now-defunct Laker Airlines, Martinair and Ryanair. Loganair is named after Willie Logan. Willie Logan was the owner of a construction company in Scotland who bought a small charter company called Capital Services in 1962 and changed the company's name to include his surname. Starting with just on twin-engined Piper Aztec, Logan used the aeroplane to fly between construction sites across the country.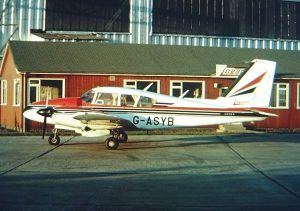 The Piper Aztec was initially based at Edinburgh Airport and later at Renfrew Airport – near Glasgow. Renfrew was closed in 1966 when Glasgow Airport moved to its current site on the former RAF base at Abbotsinch. It is a coincidence that Edinburgh Airport also started as an RAF base; Turnhouse.
Logan himself was killed in January 1966 in an accident whilst he was being flown from Edinburgh to Inverness; not in one of his airline's aeroplanes, but in another operator's aircraft as no Loganair aeroplanes were available that night. Logan's death did not mean the end of the airline. In 1968, the airline was purchased by the National Commercial Bank of Scotland, with the bank becoming the first of a number of owners. The next owner, in 1983, was British Midland Airways. By this time, Loganair's activities had expanded so that the airline could be seen as a regional airline with routes across Scotland and the UK. Other changes, including management buyouts and the acquisition of Cambridge-based Suckling Airways came and went before, in August 2015, Airline Investments Limited (AIL) took ownership of both Loganair and bmi regional. With bmi's demise, AIL remains the owner of Loganair. Following decades of franchise arrangements with operators including British Airways and FlyBe, Loganair started to operate in its own right with its now familiar tartan painted tails in 2017.
With a mix of routes across Scotland and to destinations across the UK and Northern Europe, Loganair is clearly – as the text on the fuselage of each aeroplane states – Scotland's Airline. 
Two airlines in one
After many changes to its ownership and different franchise agreements, Loganair has entered – COVID 19 notwithstanding – a stable position. However, in a number of ways, it functions as two airlines; it is on the one hand a regional airline connecting Scotland with the rest of the UK, Ireland and a small number of European destinations and, on the other, a specialist supplier of connectivity to remote locations in the highlands and islands of Scotland.
Starting with the role as a regional carrier, Loganair connects a number of UK airports from Scottish airports such as Edinburgh, Glasgow and Aberdeen. Destinations include major centres of population including London and Manchester. The regional airports that are also served are not all well known. Whilst Southampton, Bristol and Liverpool will familiar to many passengers, Derry and Douglas (Isle of Man) may be less well known. A number of routes, particularly from Aberdeen serve commercial interests such as oil & gas; with Bergen and Norwich being important destinations for the offshore industry. Outside the UK, Loganair also flies to Dublin, Stavanger and Esberg. Just before the publication of this article (July 2022), Loganair started operating to Oslo from Aberdeen.
The other part of Loganair's role is as a carrier to the more remote parts of Scotland; the Highlands and Islands. These are divided into three main island groups: the Hebrides, the Orkney islands and Shetland. Loganair links communities in these areas and the communities with major centres in Scotland.
In interviews with Loganair, the company stated that the Routes conference in May 2022 had led to "a number of positive discussions with potential European and UK airports" whilst declining to identify any of the airports. We shall have to await future announcements.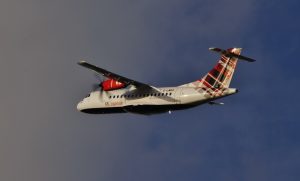 As far as future fleets are concerned, Loganair shared their plans to continue the replacement of the Saab 340 fleet with ATR42 and ATR72 types. The airline also expects that the Saabs will all be withdrawn from the fleet during the next two years.
Loganair has been continuously adapting over the last sixty years and has plans to continue doing so into the future. In the next article we will examine Loganair's plans for aviation sustainability
From tartan colours to green ones
At present, Loganair operates a fleet of piston, turboprop and jet aeroplanes, all burning fossil fuels. There are three lines of technology that are being developed to reduce aviation's use of fossil fuel; sustainable aviation fuels (SAF), electric aviation and hydrogen fuel.
SAF is being used at different concentrations around the world and could, the logistics of highland and island operations notwithstanding, could be applied to the Loganair operation. Electric aviation has only demonstrated itself so far on very short routes; something that makes the idea of interest here. Hydrogen fueled aircraft are still only at a demonstration level. But regional aeroplanes – in the nineteen to fifty seat class – may be the first to be put into service. This makes the highlands and islands of Scotland an interesting area in which to develop such operations. The same applies to other rural areas where air transport is essential; Norway, for example.
In August 2021, one of the companies that is pioneering electric aviation, Ampaire, performed the first electric aviation flights in Scotland with their hybrid Cessna 337 aircraft; the Electric EEL. These flights across the Pentland Firth between the Scottish mainland and Orkney was intended as a demonstration of what is possible. They were part of a project, the Sustainable Aviation Test Environment (SATE) project, which is being led by Highlands and Islands Airports Limited (HIAL) and were intended to show that a viable regional airline route could be used by the hybrid aeroplane. The Electric EEL is only slightly smaller than the Islander used by Loganair.
Loganair is optimistic about the potential of hybrid electric and hydrogen powered aircraft to replace current types.
The SATE demonstration followed the launch in July 2021 of Loganair's GreenSkies environmental programmed; an initiative that is intended to ensure that Loganair's goal of becoming fully carbon neutral by 2040 is achieved.
To70 expects that fully electric aeroplanes of Islander size will be available in the next few years and that Twin Otter sized aeroplanes (i.e. about nineteen seats) will follow soon after. The ATR-sized fleet may well be hydrogen-powered in the future.
Loganair's Fleet Technical Manager for the Islander, Colin McAllister, is of the opinion that the Islander "has no direct competition (at present) and for the foreseeable future it will be the aircraft of necessity." Colin continues, "For the future, possibly an electric or hydrogen powered islander would be the most likely."
To70 interviewed Andy Smith, Loganair's Head of Sustainability Strategy about the airline's views on electric and hydrogen fuel – in terms of the capability of any new-fuel aeroplanes to be used, the timescale for their delivery and the airport infrastructure in which they operate?
Andy Smith, Loganair's Head of Sustainability Strategy, said that the airline is "optimistic about the potential of hybrid electric and hydrogen powered aircraft to replace current types".
He continued, "we have been working with technology providers, Cranfield Aerospace (Project Fresson, H₂ powered BN2B), Zero Avia (H₂ powered DHC-6) and Ampaire (Battery/Hybrid BN2B/DHC-6) for several years to develop the technology and understand its potential applications to our network". He recognizes that the timescales for entry into service are difficult to predict because of the novelty of the technologies and the need for certification standards to be updated to reflect 'electric' propulsion modes. Loganair remains confident in the underlying technologies and Andy expect both the CAeS BN2B and the ZeroAvia D228 prototypes to take to the air in 2022. Despite expressing caution about predicting certification and entry into service dates, Andy believes that this should be possible in 2025/2026. On the subject of the logistics of electric and hydrogen refueling at remote, he concluded his remarks by stating that "both battery electric and hydrogen systems will require investment in new airport infrastructure and this forms part of [Loganair's] analysis and business case for the technologies".
In response to the issue of the range of electric powered aeroplanes and whether range would always have to be sufficient to permit round trips to the bases for the Highland & Island flights, Andy stated that "range is a particular challenge for purely battery powered aircraft in the nine seat and larger categories. This is an area we are working closely with the technology providers in working through the trade studies to ensure we end up with a robust and useable product suitable not only for our network but other potential operator's as well".
Loganair's particular operating environment in the Highlands and Islands of Scotland makes it highly suited to performing experiments with sustainable aviation on routes that are essential for the communities that they serve. It appears that the airline has grasped the challenge with both hands and will, it is hoped, be operating carbon-zero flights in the next few years.
In the next and final blog, To70 will report on a series of BN2 Islander flights with Loganair in the Orkney islands, including on the shortest commercial flight in the world; the route between Westray and Papa Westray.
To70 is grateful to Jonathan Hinkles, Andy Smith, Colin McAllister and the staff in Kirkwall in June 2022 for all of their assistance in preparing this pair of blogs.