In the current barrage of Urban Air Mobility (UAM) news, it is easy to forget about helicopters. But while UAM aircraft are still no more than fancy models in air show showrooms, there are currently over 35,000 helicopters in service. With increasing worldwide attention on decarbonizing the aviation sector, helicopter operations must also be included and prepare themselves for the future.
Specifically in the Offshore industry helicopters are proving to be a critical asset facilitating the energy sector. Helicopters are supporting off-shore wind farms during construction, service and repair campaigns. They are supporting the renewable energy sector to make sure the wind turbine is used to its maximum potential. Because of their increasing need within the sustainable energy sector and the sustainable development in the marine sector, the attention for their climate impact is growing as well. In this blog, we focus our attention on sustainable helicopter operations, describing what can be done to ensure that these critical aircraft can keep flying in a way that minimizes its impact on the environment. 
Helicopter sustainability development
Compared to the rest of the aviation sector, where sustainability is increasingly becoming the main topic discussed at conferences, in workshops and in international agreements, sustainability of helicopter operations has recently started to receive attention. Societal pressure on climate impact reduction is traditionally less prevalent in the helicopter industry which is driven mainly by private use, in specific industry sectors and in health and safety institutions. However, Bristow Helicopters recently released their inaugural sustainability report, setting first steps to decarbonization.
A plan is always better
Unfortunately, a long term target for the helicopter sector is still missing. Although the sector has a less impact compared to commercial aviation or other sectors, it remains very relevant to develop a long term target on how decarbonization can be achieved. This also includes clear intermediate steps to continuously decrease carbon impact. Both national and regional governments, as well as private companies can play a role in developing this; just as IATA and ACI are instrumental in setting long term targets for airlines and airports.
Besides sectoral roadmaps, helicopter operators can also develop their own targets and strategy to become sustainable, as has Bristow. In this way, they show they lead within the transition and give their partners a clear vision on how they will develop and what can be done to support this.
"Acting now will increase the helicopters sector future resilience."
Low hanging fruit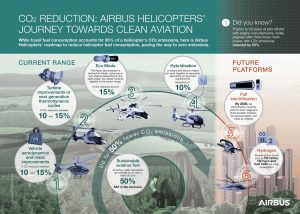 The first easy steps that helicopter operators can take is making sure to use the most recent rotorcrafts, these newer models are more efficient and therefore sustainable. In the meantime the industry must continue to invest in sustainable helicopter developments.
Modern helicopter fleets are more fuel efficient and we see that older models are being retired faster. The newest models which will deliver greater efficiency by reducing flight time (and therefore emissions) thanks to their highly efficient turboprop performance. There is a another technology which may further increase efficiency; the tilt-rotor, e.g. the AW609 and Clean Sky 2 NextGen Tiltrotor.
Airbus already mentions actions they are taking to enable the decarbonization of helicopters. "The newest-generation engines offer three times more power and a 50% reduction in CO2 emissions compared to their counterparts 50 years ago."
Beyond efficiency improvements in engines and technology, specific for the offshore energy sector operations of helicopters can also be improved. By more efficiently utilizing helicopters, a large amount of carbon emissions can be reduced. Main steps here are optimal capacity management, for example through shared services. Shared services can mean sharing logistic services with different owners, or clusters of wind farms but even between oil and gas and offshore wind. sharing capacity by using one helicopter for several customers, optimizing the routing with sharing passengers to similar destination, or using the empty helicopter stretches for other customers nearby. Overall the offshore energy sector as well as the helicopter operators need to engaging and work together to reduce emissions. The offshore energy sector can support the operators so they are able to invest in better services.
Going towards net zero Helicopters
Although increasing aircraft efficiency has incremental benefits, reaching net zero requires more radical solutions. Similar to private and commercial aircraft, within helicopter operations there is also a strong opportunity for sustainable fuels especially in the short and medium term. Sustainable fuels have been successfully used within helicopters (Norwegian CHC Helicopter first commercial service) and Safran has published research recently describing their efforts to develop helicopter engines that can be powered by 100% SAF, including the first 100% SAF flight by an airbus helicopter in 2021. Much research is also being done on SAF safety within helicopter operations.
Other opportunities to reach fully sustainable helicopter operations include battery powered electric helicopters, although this is mainly happening within the EVTOL space, as well as hydrogen which Airbus has announced it is working on, but yet little has been developed. Both these energy carriers have a strong potential, but must garner further support from helicopter manufacturers and operators.
There is a long way to go to further decarbonize helicopters but there are signs of serious commitments from within the industry itself.
Figure 1: CHC becomes the first to fly the S-92 on SAF
About post author